Seven Trailwrights gathered to make another treadway improvement on the Artist Bluff side of the Bald Mtn./Artist Bluff Path. Bill MacLean, Theresa Ludwick, Bernie Calder, Greg Russell, Ralph Potter, Peg and myself.
In a section below the Bluff there were some rocks that were too high causing people to go around them causing trail creep in a short but steep section. We installed Steps to cut the grade down and screed the sides to keep traffic on the steps. We also made an earth water bar just above this same area where hikers also went around high rocks. So we removed the larger rocks and developed the used worn in area as a water bar. Blocking it off forcing hikers back onto the smoothed treadway. Two double rock steps were installed along with two single steps.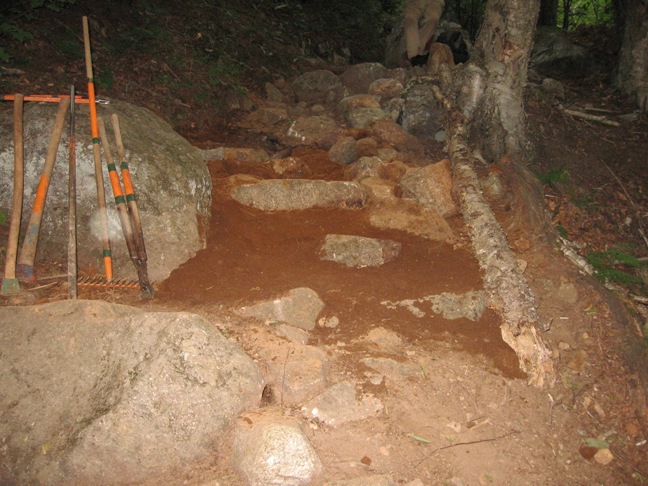 Below this section was an old wood water bar that was several inches too high and a moderately steep short section with signs of erosion. We Tore out the wood and installed a rock bar in it's place, then installed 4 single rock steps to cut the grade. Greg was leading this project for his first one with Trailwrights. Good job!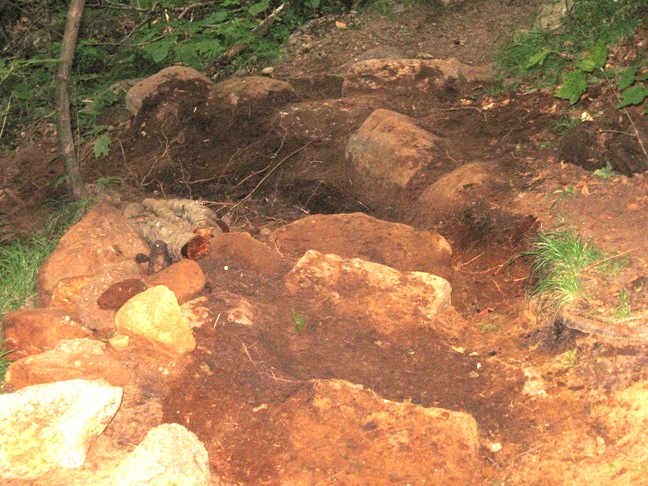 We were about to do some more steps back where we first started but Thunder was making it's presence with darkness and rain coming so we decided to make it a day rather than get another project started that we would not have time to finish. Arrived back at the trailhead the same time as the rains.
We were satisfied with the improvement and plan to return to finish up with more improvements. One step at a time. Unfortunately darkness prevented good pictures of the finished work. And as usual we forgot to take before but attached are two.
Thanks to all for the dedication and hard work.