As always and never enough, many thanks of appreciation to the trail volunteers that construct and maintain hiking trails.
Our first trail work day was April 27, in Franconia Notch. 10 of us volunteers met in the freezing cold rain tocontinue an on going rock work construction on the Artist Bluff Trail. (The Trailwrights have been constructing and maintaining this trail for NH State Parks for over 30 years) The weather was against our plans so we went out to divert water and observe troubled areas that need attention.This was the only foul weather day we had this year on our trail work schedule.
We worked in the Franconias till October, a total of 8 work days. In between those work days we also installed more rock steps in Swazey Town Park with the folks of Meredith, and we guided Boscawen Elementary School teachers on maintaining their trail. We teamed up with the Friends of the Wapack at Miller State Park for more rock work and members also dedicated a couple of weekends working with the Chatham Trails Association in the White Mountains.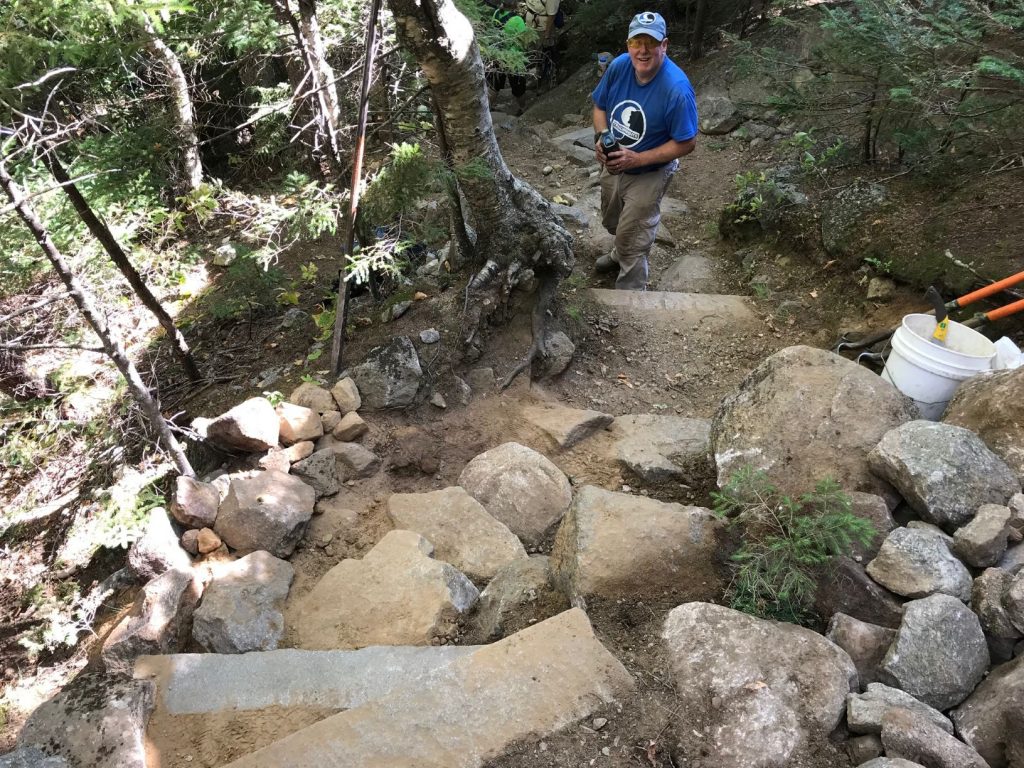 Trailwrights had a total of 635.5 hours this year in nine outings, plus all the behind-the-scenes time put in by the directors. In addition to our workdays, the Trailwrights tool trailer had a complete overhaul: replacing the side walls completely. We also have new decals put on the new walls and on the rear panel.
In the coming year we will continue our dedication to maintaining trails with the help of volunteers like you! Consider joining us on a workday this year to make a difference. Check our website or our Facebook page for information on upcoming events!